Metaphysically Revealing Art
By the Award-Winning Artist & Author
"Revealing the Secret Beyond the Struggle# 40 x 30, Acrylic on Canvas
Featuring

"Luminous Streams# Transcendental Art
Currents of energy intertwining
In infinite space combining,
Colors, textures, and forms designing,
The elements of nature defining,
To music and dance inclining,
A sublime vision of life divining.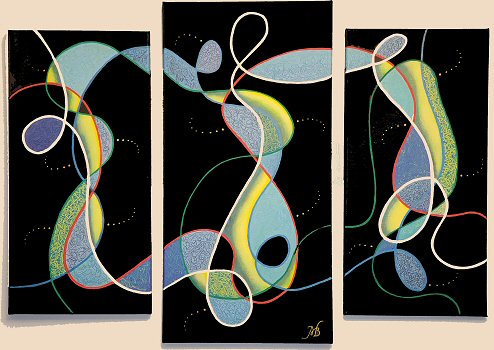 "The Secret of the Concerto with Dancers# Acrylic on Canvas
"You can interpret my art two ways -- first, simply as beautiful decorative designs and second, in more depth, as images that portray elements of a reality and forces of nature beyond the realm of the senses.
It is my hope that you see both.#
Let it be known, "We are all part of the one divine luminous stream.#
"My art was originally inspired by a vision in a dream and today is enlivened through meditation.#

"In addition to being beautiful decoratively, these paintings can be a means to a "metaphysical encounter# -- presenting a way to gain insight and to grow in our awareness of our beautiful shared reality beyond the realm of the five senses.#

"These images are doorways through which the viewer may participate in a meditative experience which I call four-dimensional visualization.#

"I know that these Luminous Streams paintings together with 4-dimensional visualization can trigger profound experiences. For this reason, it is my passion to share my creations and their insights with others!#



"The Secret of the Angelic Presence# Acrylic on Canvas

What is the main theme of my art? The answer: my art is about the timeless beauty and mysterious rhythmic energy of the forces behind all creation.


How is that achieved? Through their expressive lines, textures, and radiant colors, my paintings bring together elements of nature, the visual arts, music, and dance.

Also, many of the paintings have inscriptions in an ancient form of writing which add to the mystery and are clues that these paintings are much more than merely beautiful decorative designs.






Can you see how these inspired images might open pathways to perceiving a deeper reality -- a perception of reality which is beyond our five senses?

"The Secret of Being in the Flow# Acrylic on Canvas

>As meditation images, my art leads our consciousness into a deeper awareness of the forces and the energy of life itself!

Learn 4-Dimensional meditation Using Art
Coming Soon:
"Expanding Our Vision Beyond the Five Senses Through Art,# -- my newest book. Look for it soon!
Today's Date and Time is
Copyright, Bennecelli, 2023